Almirante Cochrane class
central battery ironclad
Almirante Cochrane 1875-1935, Valparaiso 1876:Blanco Encalada 1876-1891
Huascar class
turret ship
Huascar 1866 Peru, captured 1879-1902; then training ship, 1917 submarine depot ship, then museum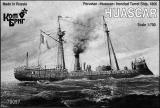 Huascar 1866
Capitan Prat
barbette ship
Capitan Prat 1893-1931; 1931-1936 submarine depot ship
Constitucion class
battleship
Constitucion ;-1903-1903 completed for UK as HMS Swiftsure, Libertad ;-1903-1903 completed for UK as HMS Triumph
HMS Triumph ex Libertad (1/1250)
,
HMS Triumph ex Libertad
Almirante Latorre class
battleship
Almirante Latorre design based on Iron Duke, layed down as Libertad / Valparaiso, finished as HMS Canada by UK, 1920/21 passed to Chile as Almirante Latorre 1920-1958, Almirante Cochrane ex Constitucion ex Santiago ;-1913-1918 finished as aircraft carrier HMS Eagle in 1923
HMS Canada 1915 (1/1250)
, Ähnlicher Typ
HMS Iron Duke (1/600)
,
HMS Eagle (1/1250)
,
Bausatzkandidat:
Shapeways COB Admiral Latorre
,
Bausatzkandidat:
Canada by Kombrig
Esmeralda
Wooden corvette 1855-1879

Bausatzkandidat: Esmeralda 1855 by Brown Water on Shapeways
…

Virgen de Covadonga class
gunboat
Virgen de Covadonga 1859;1865-1880
Almirante Lynch class
torpedo gunboat
Almirante Lynch 1910:Tomas 1890-1919 Draw see
Shipbucket
, Almirante Condell 1910:Talcahuano 1890-1919
Almirante Simpson class
torpedo gunboat
Almirante Simpson 1896-1907 to Ecuador 1907 (Libertador Bolivar)
Golub class
gunboat ex russ Minelayer
Orompello 1919;1920- , Colocolo 1919;1920-bef.1939, Elicura 1919;1920- , Leucoton 1919;1920-bef.1939; sisters of Finnish Uusima gunboats
Golub 1917 (1/1250)
,
Hämeenmaa
Capitan Orella class
Turtleback destroyers: Capitan Orella 1896-1924, Capitan Munez Gamero 1896-1924, Teniente Serrano 1896-1924, Guardia Marina Riquelme 1896-1924
Capitan O'Brien class
Improved Orella class: Capitan O'Brien 1902-1924, Caitan Merino Jarpa 1902-1924
Capitan Thompson class
Capitan Thompson 1902-1924
Almirante Lynch class
Almirante Lynch 1912-1945, Almirante Condell 1913-1944; 1911 Chile ordered 6 strong destroyers. Because of war the first 2 were delivered, UK requisioned the latter 4 and delivered 3 after the war, see Williams class
Drawing on
Shipbucket

Ähnlicher Typ
HMS Tipperary (1/1250)
Almirante Williams class
Same as Lynch class
Almirante Williams ex HMS Botha. 1920:Almirante Williams Rebolledo 1914;1920-1933, Almirante Uribe ex HMS Broke. 1920:Almirante Goni 1914;1920-1933, Almirante Riveros ex HMS Faulknor 1920:Almirante Simpson 1914;1920-1933, Almirante Riveros -1914;--1914 ex HMS Tipperary sunk in Battle of Jutland

HMS Tipperary (1/1250)
Serrano class
Based on reduced HMS Amazon type
Serrano 1928-1967, Orella 1929-1967, Riquelme 1929-1963, Hyatt 1929-1963, Videla 1929-1957, Aldea 1929-1957
Ähnlicher Typ
HMS Amazon 1927 (1/1250)
Almirante Williams class
Almirante Williams 1960-1996, Almirante Riveros 1962-1995
Almirante Williams Exocet ca 1980
Fletcher class
Blanco Encalada / Almirante Blanco Encalada 1943;1962-1983, Cochrane / Almirante Cochrane 1944;1962-1983
Basistyp
Fletcher
Allen M. Sumner class
Ministro Zenteno 1944;1974-1990, Ministro Portales 1944;1974-1990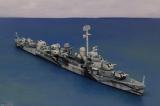 Basistyp
Allen M.Sumner Class
Condell class (12I Leander class)
frigate
Almirante Condell 1973-2008, 2008 to Ecuador as Eloy Alfaro , Almirante Lynch 1974-2008 to Ecuador , Ministro Zenteno 1968;1990- , General Baquedano ex HMS Ariadne 1971;1992-1998
Background and 3D-Model see
Report by Lars on Modellmarine
, Version of 1978 Beagle conflict with camouflage see
http://www.modellmarine.de/index.php?option=com_content&view=article&id=5419:chilenische-fregatte-almirante-lynch-1700-mt-miniatures-von-lars-scharff&catid=112:lars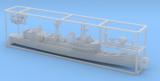 Ähnlicher Typ
Taragiri
, Ähnlicher Typ
HMS Leander (1/600)
,
Bausatzkandidat:
PFG-06 Almirante Condell by Masters of Military on Shapeways
County class
Capitan Prat 1967;1982-199., Almirante Cochrane 1967;1984- , Almirante Latorre 1964;1986-1998, Almirante Blanco Encalada 1964;1987-2003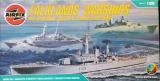 HMS County class Devonshire (1/600)
Type 22 Broadsword
Almirante Williams FFG-19 ex HMS Sheffield 1988;2003-...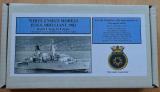 HMS Brilliant F90
,
HMS Chatham (1/1250)
M (Karel Doorman) class
frigate
Almirante Blanco Encalada 1991;2005- , Almirante Riveros 1989;2006-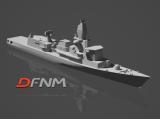 M-Fregat / Karel Doorman class
Jacob van Heemskerk class
frigate ex NL Standard AA class, sister class of Bremen class
Almirante Latorre ex NL Hr. Ms. Jacob van Heemskerk 1983;2005- , Capitan Prat ex NL Hr.Ms. Witte de With 1989;2006-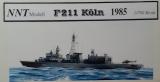 Ähnlicher Typ
Köln F211 (1985)
Type 23 Duke class
2006… Almirante Cochrane FF-05 ex HMS Norfolk, Almirante Condell ex HMS Marlborough, Almirante Lynch (FF-07) ex HMS Grafton
HMS Norfolk F230
,
HMS Iron Duke F234 (1988) (1/1250)
Adelaide class
ex austral. 15.4.2020: "Capitan Prat" (FFG 11) ex Newcastle FFG 06, "Almirante Latorre" (FFG-14) ex Melbourne FFG 05
USS Oliver H. Perry FFG-7
Colocolo class
Colocolo 1880-1915, Tucapel 1880-1915
Glaura class
Glaura 1880-1915, Janequeo 1880-1880, Guale 188.;188.-1915, Rucamilla 188.;188.-1915, Tegualda 188.;188.-1915, Janequeo 1881-1915
Fresia class
Fresia 1880-1915, Lauca 1880/81;1880/81-1915, Quidora 1880/81;1880/81-1915
Sargente Aldea class
Turtleback: Sargente Aldea 1886-1905
7 class
7 1891-1906, 8 1891-1906, 9 1891-1906
Injeniero Hyatt class
Turtleback: Injeniero Hyatt 1896/98;1896/98-1920, Cirujano Videla 1896/98;1896/98-1920, Injeniero Mutilla 1896/98;1896/98-1920, Guarid Marina Contreras 1896/98;1896/98-1920, Teniente Rodriguez 1896/98;1896/98-1920, Capitan Thompson 1896/98;1896/98-1920
H1 / Guacolda class
6 Holland class subs built 1915. British H class, corresponds to US Holland 602 type. Some used till 1953
Capitán O'Brien
3 boats siimilar to British O class 1929
HMS Odin ( O class group 2) 1929/40
Thomson / Balao class
Thomson, Simpson ex US. Simpson later Guppy converted
USS Corporal SS-346 GUPPY II 1956
O'Brien / Oberon class
O'Brien, Hyatt
HMS Oberon
Thomson / Type 209/1400
Thomson, Simpson ex US. Simpson later Guppy converted
U-Boot Klasse 209-1200
Carrera / Scorpene
Carrera, O'Higgins
Scorpène class